Within the framework of a call for proposals, the Hanoverian universities submit proposals to the Studentenwerk. A commission of student representatives from the Studentenwerk decides on the selection. The prizes for individuals are 500 euros, groups receive 1,500 euros. The prize is now awarded every two years.
In 2020, the "Student Union Award for Social Commitment" celebrated its 20th birthday. A review of two decades of awarding prizes and 111 award-winning students is provided in the brochure "20 Years of the Student Union Award for Social Commitment in Higher Education".
More information about the award winners, reports and pictures of the award ceremonies of the past years can be found here.
On Thursday, June 18, the 2020 Student Union Award for Social Engagement in Higher Education was presented.
Normally, we award the prize personally to the prize winners during a big ceremony. It quickly became clear that we couldn't do that this year. But we didn't want to do without the prize and the award ceremony. Without further ado, an online award ceremony was planned. In it, the prize winners will be honoured by our Managing Director Eberhard Hoffmann and the Lord Mayor of the City of Hanover, Belit Onay, including music by Hot Club de Linden from the "Home Office".
Paula Breland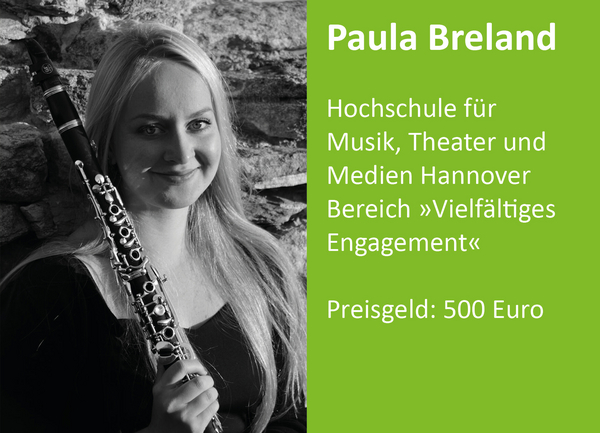 Paula Breland, a student on the Bachelor of Music - Artistic Training course at the Hanover University of Music, Drama and Media, has been involved in the board of the Junge Philharmonisches Orchester Niedersachsen e. V. for two years. This semi-professional orchestra gives music students the opportunity to get to know repertoire and intensive rehearsal work in order to prepare them for their future careers. Paula Breland is a member of the student parliament and is particularly involved in the networking working group. The aim of this working group is for students from the fields of classical music, jazz/rock/pop, media and drama to learn from each other through joint courses and seminars and thus benefit from each other. In addition, Paula Breland has been playing in social institutions for several years as part of the Klassik in der Klinik e. V. association and the Yehudi Menuhin-Stiftung - Live Musik Now e. V. and makes music for people who cannot attend concerts because they live in psychiatric hospitals, hospices or prisons, for example.
Katharina Krauße and Sebastian Blum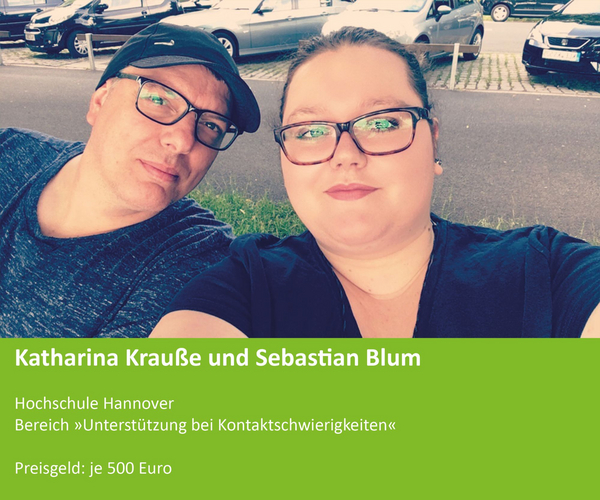 Katharina Krauße and Sebastian Blum have been offering the self-help group KONTAKT (Kennenlernen Orientierung Netzwerk Tatkraft Aktiv Kommunizieren Treffen) for several years with the support of the Psychological-Therapeutic Counselling for Students (ptb). With this offer, the two students make it possible for students who have few social contacts, who feel lonely or who find it difficult to approach others, to get in touch with like-minded people. During the semester, leisure activities are planned and carried out together. This leads to the reduction of fears and is a valuable addition to the counselling-therapeutic offers of the ptb. Katharina Krauße and Sebastian Blum receive an expense allowance which is financed by the Studentenwerk Hannover. However, the two put these funds back towards the costs of the leisure activities in order to enable students with a tight financial budget to participate. The commitment of the two students goes far beyond the time frame agreed upon with the ptb.
Students in the "Family Friendly University AG", Institute for Sports Science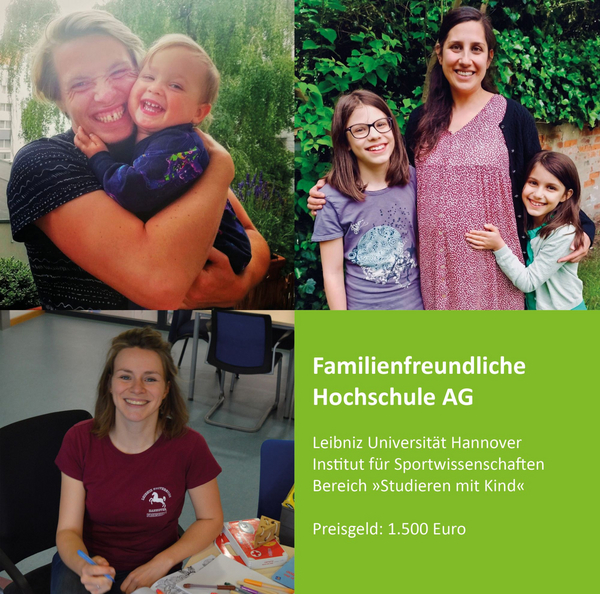 The "Family-Friendly University AG", which was founded about one and a half years ago by the two students Susan Hoge and Tabea Früchtenicht and which has since been joined by the student Leon Spickschen and five employees of the Institute of Sport Sciences, is committed to improving the balance between studying, parenthood and student jobs at the Institute. The working group exchanges information with student parents and raises awareness for the topic of "studying with children". Two liaison lecturers have been recruited who are the first point of contact for problems caused by the additional burden of family work and who act as an interface between the students, the Sports Science Student Council, the Institute of Sports Science and other departments at Leibniz Universität Hannover. As a short-term improvement, mobile play boxes (building blocks, toy cars, puzzles, painting utensils, etc.) were purchased to keep children occupied in emergency care situations.
Shopping aid Hanover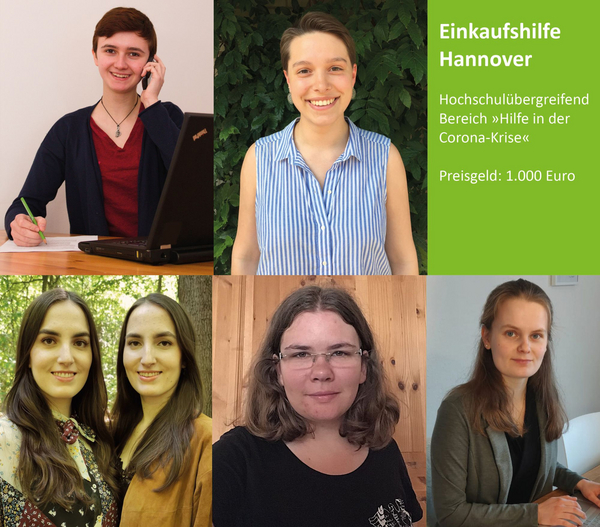 Maria Ravvina and Rebecca Dorsch, students of HMTMH and LUH, founded the Einkaufshilfe Hannover in the first half of March 2020, right at the beginning of the Corona crisis. Together with Victoria Fricke (LUH), Arbona and Melanie Brahimi (MHH) and Maria Willenborg (HMTMH and LUH), a six-person organising team was formed, which designed flyers, contacted the press and tried to bring those helping and those seeking help together. A call was launched via social media for students to go shopping for people from at-risk groups, the elderly, the sick and those in quarantine. There are now over 1,300 helpers listed in the helpers database and over 170 people seeking help have already been helped. Contact is established via a coordination telephone, which is manned daily and is attended to in turn by 15 volunteer helpers.
Solidarity instead of hoarding
Jonas Negenborn, student at Leibniz Universität Hannover, together with four students and graduates of Leibniz Universität, Hochschule Hannover and TU Braunschweig, has created the network "Solidarity instead of hoarding purchases", which brings together people affected by isolation and quarantine and helpers. Whether shopping, taking dogs for a walk, looking after children or other things: an attempt is made to bring helpers and those seeking help into contact with each other. The network provides various materials on its homepage solistatthamster.org, including a list explained in several languages, which can be hung in the stairwell and in which helpers and those seeking help can register. Around 3,500 helpers are involved in the network, and around 100 people seeking help have already made use of the service. The number of people who have connected with each other via the groups and networks in the social media cannot be quantified. More information about the network can be found on their website.
Musa Fibra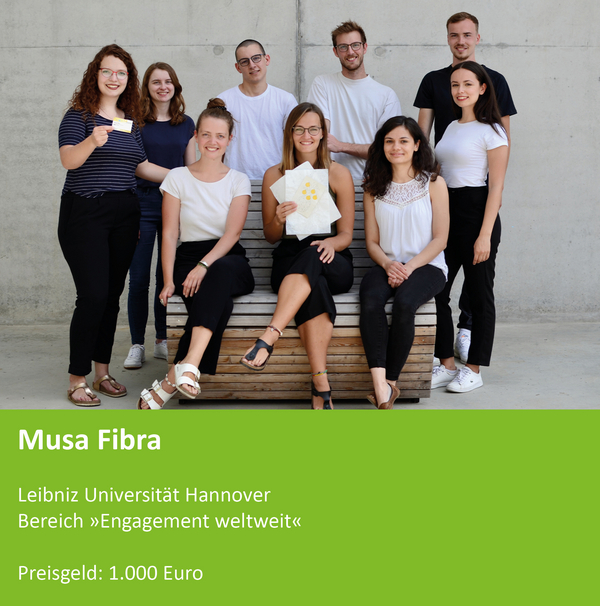 Musa Fibra is an interdisciplinary project developed by students in which cellulose is produced by chemical processes from pineapple leaves that are no longer needed in cultivation areas in Costa Rica. Eleven students from the fields of plant biotechnology, chemistry, law and economics are working to ensure that the waste product is used to produce handmade paper locally, which is then processed in Germany into high-quality business cards that are sold to sustainably-minded companies. The project creates new jobs in Costa Rica and also ensures the sustainable use of a waste product from pineapple plantations. More information about Musa Fibra can be found on the Hafven website.